ENGRAVED WINDOW NAME BADGES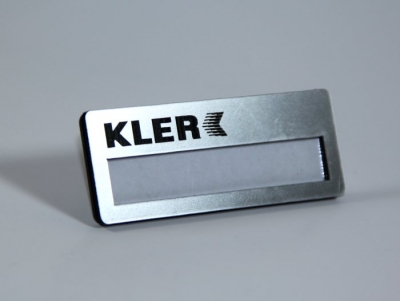 Elegant engraved window name badges will meet the needs of the most demanding Customers. We are able to make almost every possible shape of a name badge with a window dimension you need. The external dimensions are the only limit (max. 70x38 mm, 80x30 mm, 86x54 mm). The engraving can be black (on a gold and silver name badge) or white (on a black name badge). There is a possibility to engrave a logo in any colour on a special request. Text in the window is printed on a paper label protected by a plastic blinder. The replacement paper label with the personal data (name, surname, function/position) enables data's update as needed, without the whole name badge exchange.
Durable and light engraved window name badge is perfect for the hotels and offices – everywhere where prestige and elegance go hand in hand with modernity. Every kind of fasteners possible (clips, safety pins, magnets).
External dimension: 70x38 mm, 80x30 mm, 86x54 mm
Window dimension: any (max. external dimension minus 10 cm)
Colours: gold, silver, black (available off-the-shelf) or any colour from the colour template on request
Inscription: black engraving (on gold or silver name badge) or white engraving (on black name badge)